Estimation – some people hate it, some people can't live without it. Martin Fowler said, "Estimation is neither good nor bad." Ron Jeffries said, "Estimation is Evil." Two months later he corrected himself and said, "Estimation is a necessary evil." For most people, the very essence of planning was based on estimation. And when plans went awry, the attributable root cause invariably was an incorrect estimation or the paucity of time for correct estimation.
In this webinar, the second in the series where we help Business Leaders understand how Lean-Agile thinking delivers Business Agility, we will explain why traditional estimation is a huge impediment to Business Agility. We will attempt to re-define the process of estimation in a manner that supports Business Agility and will address the question all leaders have – "How do I plan IF we do not estimate? How would I know how many people I need OR how long this project will take?"
By the end of this webinar we hope we would have shown you how to go about estimation without harming the core objective – the ability of the Enterprise to respond to change.
Fill the form below to watch the recording of the webinar:
About the Speaker: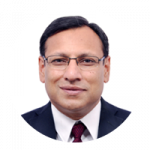 Sudipta Lahiri has been in the IT industry for nearly 3 decades. He brings together a mix of experience across various IT Services and product companies. At Digité, he heads the Engineering and Product Management functions. He leads the development of SwiftEnterprise, SwiftKanban and SwiftEASe products. He is passionate about Lean-Agile transformation and has led Digité's transformation process and helps various organizations in that capacity.