Are you new to Kanban? Or did you just build your first Kanban Board? Or already a Kanban expert? Irrespective of where you are in your Kanban journey, here is a comprehensive list of the top Kanban books that will help you with knowledge, insights and experience related to Kanban and ensures an empowered journey towards achieving your business goals.
Several good books have been written on Kanban and its application to various business processes, especially to Scrum, since David Anderson published his original Kanban "blue book". We highly recommend the following 11 books to all Kanban practitioners and students.
1. KANBAN Successful Evolutionary Change for Your Technology Business – By David J Anderson
(262 pages, ET to read: 4 hours, Published April 7th, 2010 by Blue Hole Press)
Beginners to Kanban can easily understand true, practical meaning and goals behind method's principles and practices.
David Anderson, who is widely regarded as the Kanban Method pioneer published this book in 2010. This book's success has lead it to be called as the Kanban Bible – and in the Kanban community, it is simply known as the 'Kanban Blue Book'. This book provides the most comprehensive overview of the Kanban Method and its application to technology and general business functions.
2.Kanban from the Inside – By Mike Burrows
(270 pages, ET to Read: 4.2 hours, Published 2014 by Blue Hole Press)
Beginners to Kanban can easily understand true, practical meaning and goals behind method's principles and practices.
In this book, Mike takes a distinctive approach to the implementation of the Kanban Method and explains what it is, how its practitioners think, and to offer practical advice on how to apply it. Readers new to Kanban will understand why and how it works, while those with experience will appreciate its fresh perspective and the connections it makes with a range of related models.
3. Personal Kanban: Mapping Work – Navigating Life – By Jim Benson
(218 pages, ET to Read: 3.4 hours, Published February 2nd, 2011 by Createspace Independent Publishing Platform)
Any professional or person in a management position could benefit from this book. The book guides the team on the basics of Kanban.
Jim Benson in this book says Personal Kanban is about choosing the right work at the right time. Recognizing why we do the things we do. Understanding the impact of our actions. Creating value – not just product for ourselves and for the society. This book describes why students, parents, business leaders, major corporations, and world governments all see immediate results with Personal Kanban.
4. Principle of Product Development Flow – By Don Reinertsen
(290 pages, Published 8 May 2014 by Celeritas Publishing)
If you want to improve or create the flow in your product development process start with this book!
This book comprehensively describes the underlying principles that create Flow and facilitate Lean Product Development processes, principles that have produced 5x to 10x improvements, even in mature processes. The book provides a well-organized set of 175 underlying principles in 8 major areas such as improving economic decisions, managing flow in the presence of variability, and decentralizing control. David Anderson specifically credits Don Reinertsent for his pioneering book on the Kanban Method.
5. Real World Kanban – By Mattias Skarin
(123 pages, ET to Read: 2 hours, Published July 8th, 2015 by Pragmatic Bookshelf)
The book offers several case studies & use cases to help the reader understand how specific Kanban implementations have worked in the past.
Four case studies explained in this book will guide you toward project success. You'll get to see how Kanban was used to improve time to market and to create a shared focus on different verticals of the business. This book also covers the relevant bits of theory on Kanban before presenting the case studies.
6. Kanban Change Leadership: Creating a Culture of Continuous Improvement – By Klaus Leopold & Siegfried Kaltenecker
(320 pages, ET to Read: 5 hours, Published March 30th, 2015 by Wiley)
This book provides an understanding of what is necessary to properly understand change management with Kanban as well as how to apply it optimally in the workplace.
This book explains how and why Kanban offers a new approach to change in the 21st-century businesses and provides an understanding of what is necessary to properly understand change management with Kanban as well as how to apply it optimally in the workplace. The author has organized the book into three sections as foundations of Kanban, Kanban change management and social system of business. The focus of the book is to guide readers in the process of building a culture of continuous improvement by reviewing several case studies and seeing how Kanban has been applied in various situations.
7. Stop Starting, Start Finishing – By Arne Roock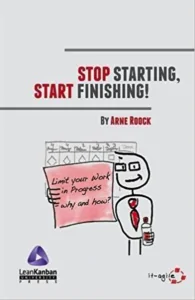 (31 pages, ET to read: 50 min, Published July 19th, 2012 by Lean-Kanban University)
A simple distillation of the "reduce multi-tasking" gospel of Kanban with graphics and a simple story.
This booklet tells the story of Justin – a project manager who achieved remarkable results with his team by doing very simple things! This guide covers the core concepts of Kanban for knowledge work and shows how limiting your work-in-progress can lead to getting things done better and faster.
8. Scrumban and Other Essays on Kanban Systems for Lean Software Dev – By Corey Ladas
(180 pages, ET to Read 2.8 hours Published January 12, 2009, by Modus Cooperandi Press)
A comprehensive guide to Scrumban for applying kanban and pull systems in software development.
Probably the earliest treatise on Scrumban, the book describes applying lean manufacturing techniques to software development. The book contains a series of essays that give practitioners the background needed to create more robust software development practices, combining the best of Agile and Lean.
9. Kanban in Action – By Joakim Sunden and Marcus Hammarberg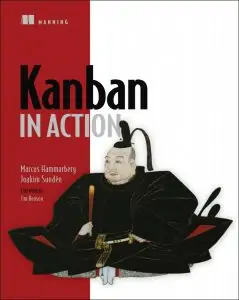 (360 pages, ET to Read:6 hours, Published March 17, 2014, by Manning Publications)
This book explains the theory behind flow-based processes and provides a ton of practical implementation tips.
This book is based on the real-world experience and observations from two Kanban coaches Marcus Hammarberg and Joakim Sundén who have introduced Kanban to dozens of teams. You'll get to learn some of the principles of why Kanban works as well as how visualizing helps teams track their work.
10. Kanban and Scrum – Making the Most of Both – By Henrik Kniberg & Mattias Skarin
(120 pages, ET time to read 2 hours, Published 1 March 2010 by Lulu.com)
The book is a quick read and provides an illustrative introduction to using Kanban with Scrum.
This book includes Kanban and Scrum in a nutshell. It provides practical examples and pitfalls, and diagrams illustrating the day-to-day work of a team using Scrum with Kanban. The books also provide a detailed case study of a Kanban implementation within a Scrum organization.
11. Making Work Visible – By Dominica DeGrandis
(205 pages, ET to Read: 3 hours, Published November 14, 2017 by IT Revolution Press; 1 edition)
This book is on exposing time theft to optimize work & flow
In this timely book, IT time management expert Dominica DeGrandis reveals the real crime of the century—time theft, one of the most costly factors impacting enterprises in their day-to-day operations. Through simple solutions that make work visible, DeGrandis helps people round up the five thieves of time and take back their lives with time-saving solutions.
I hope this exhaustive list of Kanban books provides a greater insight on getting started with Kanban for beginners as well as the experts.
Kshipra Bhat
Social Media Geek, Digité
Bonus: If you are planning to design your Kanban board download our free concept paper here!