In today's business environment, organizations need to be Agile and flexible enough to keep up with fast-growing market demands. Your work management structure needs to provide a clear plan, process and responsibilities so that critical initiatives can be delivered on time and on budget. With these challenges in mind, Agile and Lean management methods are gaining traction around the world. Taking a fresh approach to an old concept, the core concepts/ principles of Kanban remain a way to easily implement Agile and promote enterprise agility.
What is Kanban?
Kanban is a workflow method designed to manage projects or tasks more effectively where it lets you focus on one task at a time. The Kanban system was developed by a Japanese industrial engineer Taiichi Ohno in an attempt to improve Toyota's manufacturing process. With Kanban, you can expect improved efficiency and the elimination of time spent switching from one task to another. (Learn more about Kanban here).
In this article, we bring you 13 Best Kanban Software/ Tools that can help you in implementing a Kanban System in your process:
1. SwiftKanban
SwiftKanban from Digité is a powerful Kanban Project management Software for both co-located and distributed teams. It combines the best of visual project management, Kanban, and Scrum to give you a powerful tool for lean/ agile software development. It combines highly configurable and visual workflow modeling with powerful and actionable Flow metrics and ease of use to give you the best Kanban or Scrumban tool.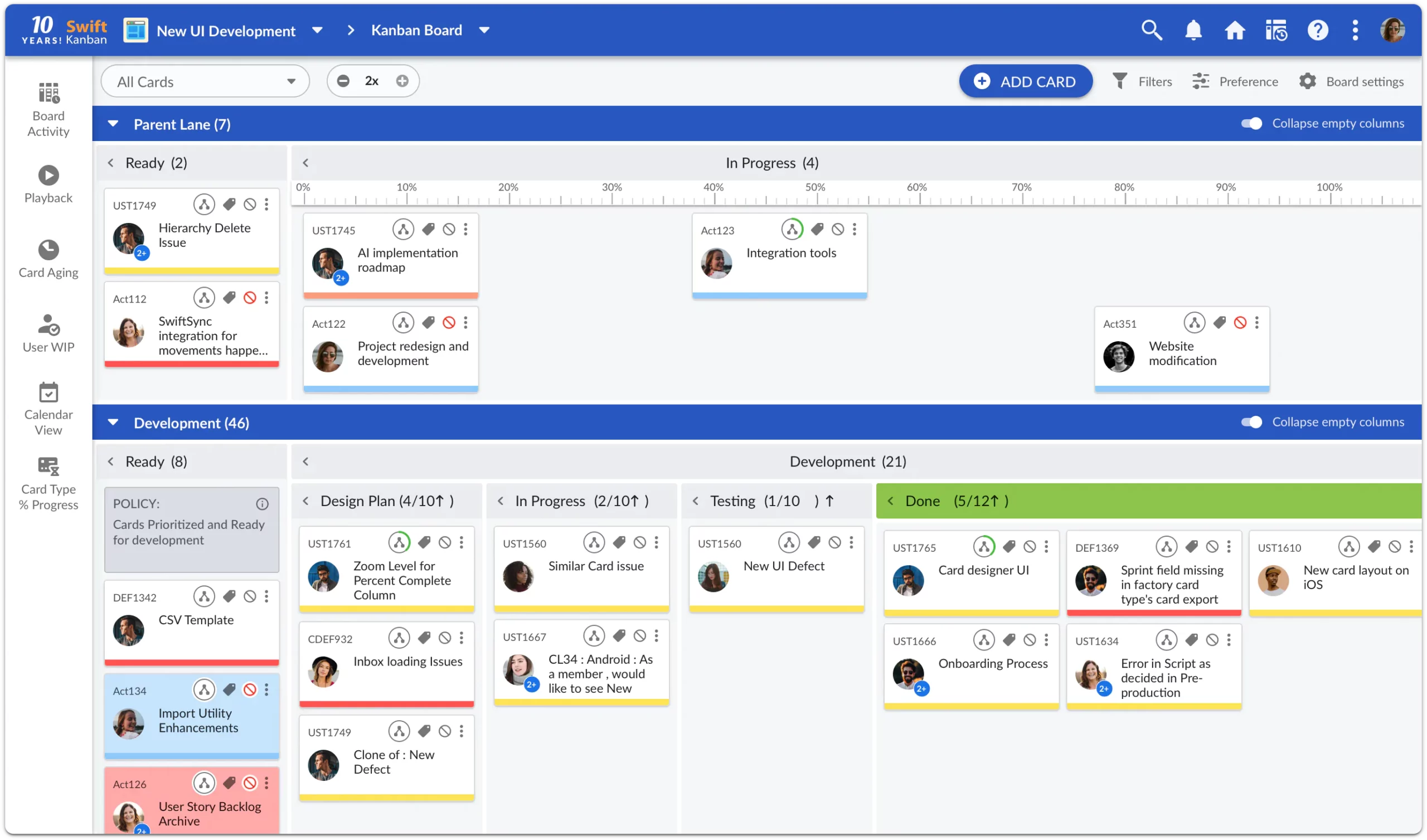 SwiftKanban is a powerful yet easy-to-use digital Kanban product to help you effectively implement the Kanban Method. It helps you visualize your work and your workflow, implement WIP Limits and Pull, and improve the flow of products and services in your organization. SwiftKanban provides a comprehensive and powerful set of Lean/ Flow metrics to help your teams and organization improve and become agile. SwiftKanban offers the most powerful board design available, using multiple SmartLanes based swim-lanes to support multiple hierarchical workflows. You can try the Enterprise version of SwiftKanban for FREE for 30 days.
Pros:
Why SwiftKanban is the best kanban board Software? 
AI-powered Similarity Recommendations
Backlog Management
Team Collaboration
Dependency Tracking
Story Mapping Board
Advanced analytics
Business Rules
External Work Requests module
Forecast distribution based on Monte-Carlo simulation
Gantt/ Timeline View
User-friendly Kanban Board
Milestone Tracking
Portfolio Management
Retrospectives Management
Resource Allocation & Planning
Integrates with 2000+ Tools via Zapier
Dedicated Mobile App
Cons:
Has limited pre-built board templates
Price:
Free Plan available
$15 /user/ month for Enterprise plan
2. Trello
Trello is a web-based Kanban project management application. It is a popular collaboration software for organizing your projects into Kanban boards. It uses a basic Kanban board instead of a timeline-based structure to visualize work items. Trello is known for its simplicity and is suitable for personal use. The basic tool is free, but businesses can upgrade it for more features and security. A typical Trello Kanban board has three columns – "To Do", "Doing" and "Done".
Teams can leverage it to track simple processes and move cards in the column according to the phase they are in. Trello Kanban board has lists and cards which are the building blocks of organizing work where every single part of your task can be managed, tracked and shared within teams. Users can add in task descriptions, due dates and create checklists.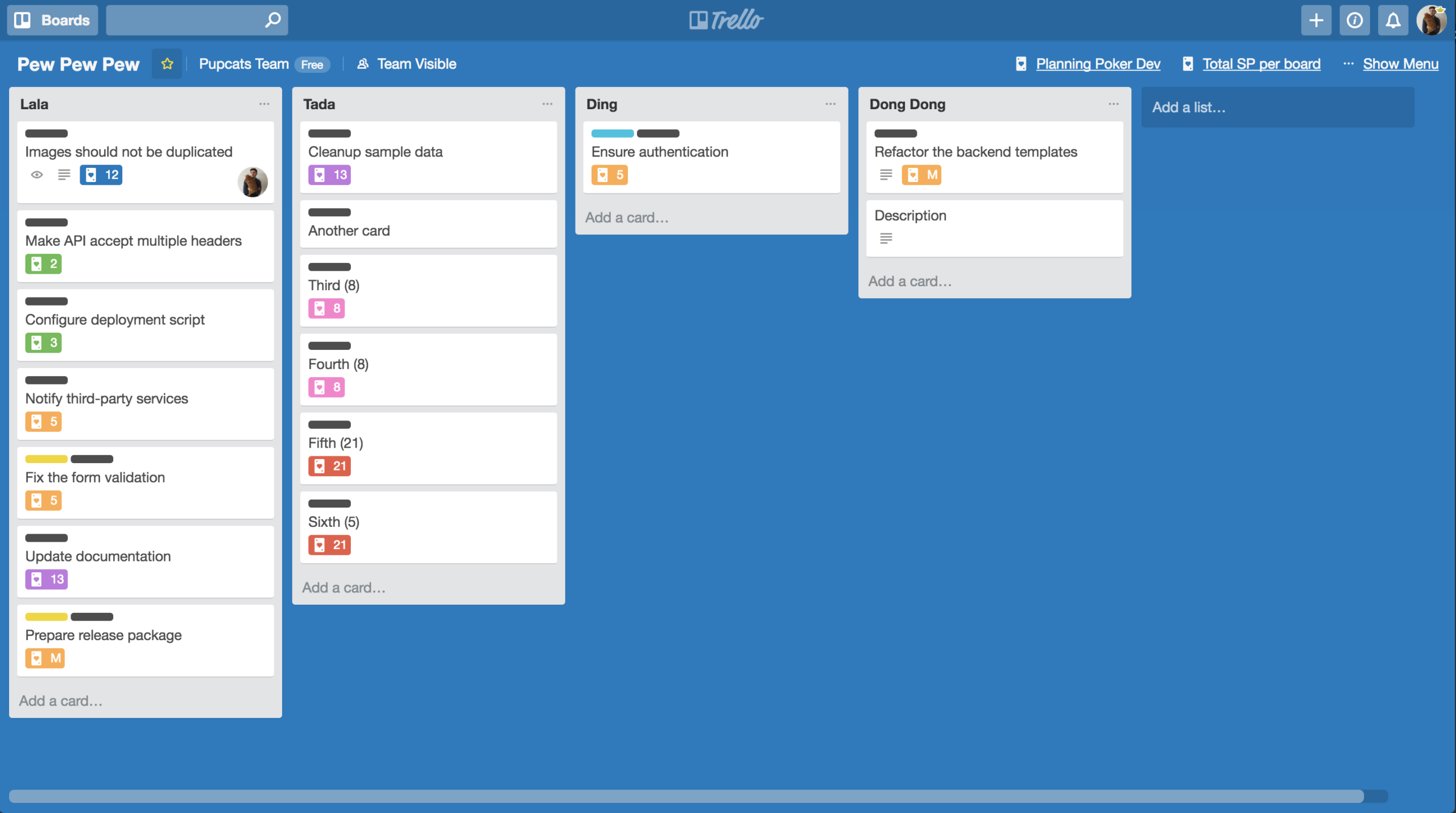 Trello enables easy and real-time collaboration between team members and is efficient for visualizing simple processes in a small team. However, it is not efficient for medium to large businesses which require handling of big projects. The project management and Kanban features are limited which can make complex projects more difficult to visualize.
Pros:
Lightweight app for personal Kanban use
Easy to use and accessible with simple navigation
Easy task management via Kanban-style cards
Can be integrated with wide array of other software
Cons:
Lacks professional project management features
No advanced analytics
Can be cumbersome for larger tasks
Price:
The basic plan is free
$17.50 /user /month for the enterprise package
3. Asana:
Asana is a flexible software solution designed for simplifying team-based work management. Asana's web and mobile apps help teams collaborate on projects with the help of a basic Kanban board that allows tracking of task movements. The boards allow you to have an in-depth visualization and you can create columns that represent several stages of your work: "new work", "priority work", "on hold" and "completed". You can customize your workflow on a Kanban board based on the team's specific requirements and keep track of what's most important to you. The timeline features help you to plan and see how the pieces of your project fit together. It simplifies workflows with automation features. For instance, you can automatically drag and drop tasks to move your work through stages.
Asana offers better time management and higher productivity by streamlining work requests. Your team can see real-time updates and get alerted when tasks are assigned or revisions made. However, it does not allow assigning multiple people to the same task and it has limited Kanban features. Asana enhances collaboration, promotes transparency and accountability. Asana is good for simple projects, but for bigger projects, it might be an issue since it becomes hard to track projects on a larger scale.
Pros:
Simple Project tracking
Recurring Task option
Sync across devices
Cons:
No time tracking feature (needs external integration)
Price:
  A basic plan is free
  $24.99 /user /month for business plans
4. Monday.com
Monday.com is an intuitive Kanban tool for work automation. It is a table-based work management tool with striking structure that supports useful features such as displaying work items in a list-based view, multiple views, attaching files, making comments, etc. It has a simple Kanban task board that can be modified with different columns to make workflows more efficient. You can add several rows to define by priority, status or assignment.
Furthermore, it offers several other task management features along with a bunch of customization options. For example, you can add questions and answers to a card to list the reasons why you're working on the task. Monday.com has limited reporting capabilities and lacks some much-needed options like CFD, Cycle time, Leadtime charts, etc.
Pros:
Customizable Kanban Boards
Automatic notification
Timesheet tracking
Sync across desktop and mobile devices
Cons:
Only basic Kanban view, no advanced Kanban features
No dependency view
Price: 
 Free plan available
$16 /user /month for Pro plan
5. Wrike
Wrike is a versatile and robust tool for streamlining internal project management and improving collaboration between team members. It is an enterprise-focused project management tool that supports Kanban. Because of its flexibility, it is not only used as a project management tool, but can also be used to support other work areas of different departments in an organization. You can visualize tasks at hand on a simple Kanban board, modify the view with different columns and add in WIP limits.
Wrike has great usability which is useful for inexperienced users. It offers features where you can customize processes and personalize your brand with innovative theme options as per your requirements.
Pros:
Management of large and small projects
Quick and easy task management with Simple-To-Do List
Cons:
Complex for individual use
Limited Kanban board view
Price:
Free plan available
$24.80 /user /month for a business plan
6. JIRA
Developed by Atlassian, Jira is one of the popular tools for project management and issue tracking. Jira supports all agile methodologies such as scrum, Kanban, etc. Jira supports agile sprints and multiple project views such as user stories and story points. It helps agile teams plan sprints, allocate tasks, and prioritize work with total transparency and team visibility.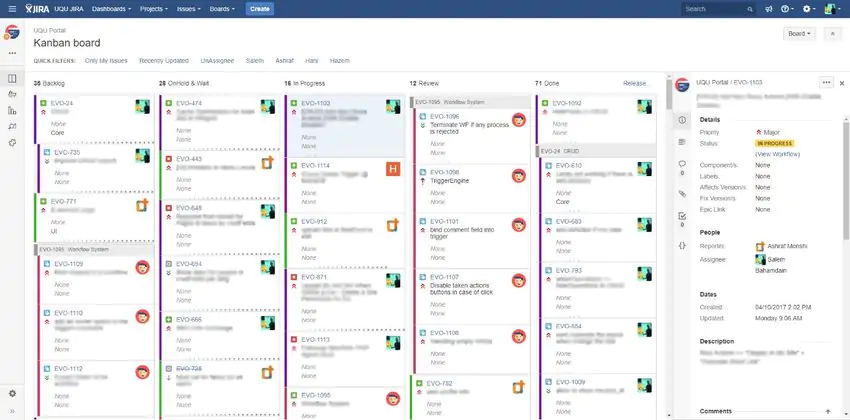 Kanban boards in Jira are utilized to track the work and are configured out of columns and WIP limits to give a quick overview and control the workflow. There are additional project management features like reporting and collaboration, but Jira's reporting capabilities are complex to set up and not easy to access. Only basic reports are provided right out of the box, but for more in-depth reporting/ analytics people need to depend on external partner solutions.
Pros:
Customizable
Email notifications
Built for agile and scrum management
Good for issue management
Cons:
Complex for non-IT companies
Cumbersome Interface
Price: 
Free plan available
$14 /user /month for the Premium plan
7. Leankit by Planview
LeanKit by Planview is a visual project delivery tool geared towards lean software development teams. It's an excellent tool for managing projects across all levels and it offers a variety of Kanban features for engineering teams. Leankit Kanban boards can be customized making it easier to visualize various processes. You can set limits on the number of cards to limit the work in progress teams, while tasks can be estimated in story points or hours. The team velocity metrics can keep track of the productivity of the teams.
Due to its flexible nature, Leankit lets you identify opportunities for improvement, visualize processes, and collaborate more effectively. Leankit provides users with great project visibility allowing complete visualization of workflow processes. This cloud-based SaaS platform allows managers to have control of your projects from start to finish and let them receive real-time updates of various tasks and assignments.
Pros:
Created for lean software development, portfolio management layer
Flexibility in designing Kanban board
Made fit to any process
Cons:
Difficult to set up and use for non-IT teams
Clunky interface
No Mobile App
Price: 
$20 /user /month for the Premium plan
8. Zoho Projects
Zoho Projects is a cloud-based project management software, specially designed for small and medium-sized businesses. It enables project scheduling and budgeting, allowing project managers to set project tasks, allocate the tasks to their teams, estimate project expenses, and track the status of ongoing projects. It has a Kanban board view where all issues are placed as cards in different columns. These columns can indicate the nature, severity, classification, module of the issue, or whether it's repetitive. This helps the team to understand where they are in the process and what needs to be done at any given time. Zoho Projects offers automation of document operations like revision tracking, access management, search, and retrieval.
Zoho Projects also offers issue management that assists managers in resolving mistakes in project assignments. Users can use the dashboards and reporting module to create business reports and management summaries. They can also use Gantt charts to see how tasks are progressing in contrast to what was originally planned. The resource allocation chart shows how many team members are available and how many are overworked. Milestones and task lists aid in the organization of large projects by breaking them down into smaller jobs.
Pros:
Interactive dashboard
Milestones can be easily set
Manage teams as well as individual tasks
Users can enable notifications to track individual performances
Cons:
Hard to customize
No predefined templates
Need separate addons for additional reporting
Price:
Free plan available
$10 /user /month for the Premium plan
9. ProofHub
ProofHub is one of the popular project management tools based on Kanban methodology. It provides a timeline for the completion of each task. It is widely used by both remote and internal teams. The visual nature is one of the key aspects of the platform. It enables teams to self-manage by allowing them to monitor tasks that proceed through several phases on the Kanban board, thereby, allowing them to keep track of work in progress.
ProofHub allows the user to create task lists and assign tasks to team members. The user can also choose whom to subscribe to at each stage. It enables the user to attach a workflow with this list with the help of an online Kanban board. ProofHub is very easy to use, and it takes just a few hours to learn all the features it offers. Overall, ProofHub is a good project management tool for teams working on projects that require visual items. ProofHub charges a standard monthly fee regardless of how many people use it, which is ideal for a small and growing team.
Pros:
Setup is simple and quick
Simple management System for files, docs, attachments etc
Cons:
Lacks resources management features
Price:
10. Smartsheet
Smartsheet is SaaS-based project management, collaboration, and crowdsourcing platform. Smartsheet allows users to create, manage, and share projects, tasks, and processes. Smartsheet also enables application connection with Google Apps, VMware Zimbra, and Salesforce CRM, as well as crowdsourcing with Amazon Mechanical Turk.
Smartsheet enables the management of a wide range of corporate processes and tasks, including project management, marketing, operations, and information sharing, as well as task management and administration. The UI is more similar to that of Microsoft Excel. It enables the management of a project from beginning to end, as well as offers tools for collaboration with project team members and the creation of project reports. Smartsheet can be customized to support popular methodologies and Kanban being one. Smartsheet offers a Kanban Sheet template and makes it easy to view project management tasks on a Kanban-style board.
Pros:
Design personalized and comprehensive Dashboards with Smartsheet
Multiple data display options are available, including a calendar view, Kanban board, Gaant chart, and others
Cons:
Dashboard components not customizable
No integrated time tracking feature
Price:
Free plan available
$25 /user /month for the Business plan
11. KanbanTool
KanbanTool is a simple Kanban task management application. Its goal is to give teams the ability to see their Kanban process on a digital board. As a result, this tool does not have many project management tools features, but it does give all of the core Kanban functionality for the teams. With the use of columns, column groups, and rows, KanbanTool allows teams to create task boards. As a result, they were able to convert their physical Kanban board to a digital one.
KanbanTool allows the cloning of both cards and tasks, which saves time. It has functionalities that allow the tracking of time. A breakdown of cards by kind, a time report, a cumulative flow to show work progress, and a comprehensive changelog with everything that has been done are available.
Pros:
Easy to use
Customize as per your preference
Time tracking and reporting
Metrics to evaluate the progress of a project
Cons:
Unable to manually organize all the to-do items
Cannot track mid to large projects
Lacks modern features of project management
Price:
Free plan available
$9 /user /month for the Enterprise plan
12. ZenHub
ZenHub is a widely used project management tool for GitHub-based software development teams. ZenHub, which is tightly connected with GitHub, allows users to easily move issues through pipelines on a Kanban board, organize big projects into Epics, and customize workflows with Workspaces to match the needs of particular teams. With detailed reporting, users can also track progress, discover and eliminate bottlenecks, and boost speed.
The ZenHub browser extension adds a new tab to GitHub that contains all of the project management features that teams require without having to switch contexts. ZenHub's multi-repo Kanban boards provide advanced project visibility, and it helps Scrum teams by automating their sprint planning process, reducing meeting time, and allowing them to focus on what has to be done.
Pros:
Makes it easy to get a high-level overview of sprints and sprint progress, burndown charts, etc
Developers can create issues and epics right from the interface
Embedded into GitHub via an extension
Cons:
No hierarchical view of tasks
Price:

Free plan available
$12.45 /user/ month for the Enterprise plan
13. ProProfs Project
ProProfs Project is a feature-rich Kanban board software. It consists of columns and task cards that denote the workflow of the entire project. The columns represent the different task stages, such as 'Open,' 'On hold,' 'Under review,' and 'Complete.' The task cards represent each task's individual progress. Also, each task card displays the end dates, its assignees, and followers. You can even add comments and attach a file to each of them. The Kanban board lets you add a subtask for better task management under each task. Besides, it also allows you to move task cards between different columns as your task progresses forward. This is the basic structure of the ProProfs board.
So, whether you're managing marketing, software, consulting, or human resource projects, you can improve transparency in everyday processes by getting a bird's eye view of each task and subtask across multiple projects. This further helps in maximizing team efficiency and productivity within your organization. Thus, the Kanban board helps streamline daily tasks and track progress right from project initiation to its closure. It gives you complete control over your project and processes by gaining real-time insight into how your tasks progress from one stage to the next.
Pros:
Easy onboarding and tool navigation
Improved flexibility to adapt to changing project requirements
Set up the Kanban board easily within minutes
Drag and drop tasks to move them across the board
Cons:
Automation is missing
No file manager
Price:
$4 /user /month for the Premium plan
Final thoughts: Performing tasks without proper planning is a risk to your productivity. Therefore, we recommend using a Kanban-based project management tool, which is great for managing and organizing projects. Whether you select a standalone Kanban tool or one which has a broader set of project management capabilities like SwiftKanban, you can be confident that applying the Kanban system to your project management strategy will empower your team and make lives easier.

Kanban FAQ!
What is a Kanban Software?
Kanban Software is a work management tool that helps you manage and track your project's workflow visually. Kanban Software includes Kanban boards, work in progress limits, task dependencies, Gantt charts and more to help teams create and automate their workflow.
What is an online kanban board?
An online kanban board is a tool that allows teams to organize their work visually and track the progress of their tasks.
How does a Kanban board work?
A Kanban board represents a "virtual kanban system" used to model the process and track the work being done by your team. You can create columns for different stages in the process, like "Backlog," "To Do," "Doing," & "Done." and track the progress of your work, by moving the cards to respective columns.
What is the difference between Kanban and agile?
Agile process focuses on constant communication whereas Kanban process have shorter sprint lengths forced to break up items to fit within sprint boundaries. Agile Processes allow for Iterative Development whereas Kanban Processes follows continuous improvement. (Kaizen)