According to the Project Management Institute, "Project management is the use of specific knowledge, skills, tools and techniques to deliver something of value to people." A Project Management tool aids the process of identifying and managing several interrelated projects and dependencies. Often associated just with IT and Engineering, Project Management has expanded to almost every sector, like Healthcare, Marketing, etc. It is usually categorized into Waterfall, Agile, and Lean, among other types.
What is a Project Management Software?
In simple terms, project management software is a tool that helps you plan, manage and execute your projects in a disciplined way. Project management software is used by a wide range of companies to enable project planning, resource allocation and scheduling of activities. Till recent times, Project Management was thought to be just a hand-drawn concept following a set methodology. But now with Project Management software, a user or an organization can carry out all the steps of Project Management on a designated tool, usually customized to suit the requirements of the team/ project.
A Project is made up of a series of interrelated tasks each with its peculiarities and the use of project management software is inevitable, as it helps managers to analyze the interactions between the tasks and plan them efficiently, identifying the most advantageous paths for the team to follow during task execution.
According to the Marketing Agencies Growth Report, the lack of a project management system has been one of the most problematic aspects for agencies. Agencies face daily growth challenges as they cannot manage their time and projects efficiently. Approximately 20% of them have never used project management software to date.
And the consequences can be stressful: 43% of agencies don't find enough free time to focus on administrative tasks, such as hiring staff, client onboarding, new business investments, and so on. About 29% of agencies have difficulties in maintaining cash flows and 35% of them face problems in hiring and managing talent.
What Makes a Good Project Management Software?
A good project management software must function as a platform that facilitates collaboration between everyone involved in the project. From controlling deliverables to managing resources and budgeting to collaborating with team members, many aspects require attention when executing and managing projects. Some Essential features you should look for when identifying the best project management software:
To-do list: To be able to assign and update the status of tasks so that all collaborators on the team are synchronized.
Schedules: Many tools offer features such as calendars and Gantt charts. They help you understand where a task fits into the project as a whole and the optimal timeframe for completion.
File sharing: By sharing and organizing key project documents on the system, you eliminate time wasted searching for files.
Collaboration/ Communication: This is critical in project management. After all, a regular flow of communication facilitates the team's alignment, as well as the search for a quick and easy solution to any problem.
Reporting: This feature is especially valuable when it comes to updating all team members on the progress of the project as a whole. In addition, it facilitates monitoring of the project by all the stakeholders. Based on the reports, they can see how the project is progressing and how tasks have been carried out on time.
Best Agile Project Management Software
With these aspects in mind, let us take a look at top Project Management Software/ tools available that help a team carry out their projects in the best way possible, guaranteeing competitiveness at all times.
1. Nimble
Nimble is a modern AI-powered Lean/Agile Work & Project Management platform designed to facilitate efficient and effective collaboration, management, and delivery of tasks by your teams.
Nimble Agile is dedicated to optimizing the Cycle Time for Product Management teams by providing a comprehensive suite of features, including Story Mapping, Relative Size-based Estimation, and Backlog Refinement. With Nimble Agile, product management teams can achieve much more than simply creating a backlog.
What makes Nimble the best agile project management tool?
AI-Powered Recommendations
Auto-population of Workitems
Story Mapping Board
Advanced analytics
Business Rules
Backlog Management
Portfolio Management
Resource Allocation & Planning
Release Planning & Tracking
Integrations with 2000+ Tools via Zapier
Dedicated Mobile App
Cons:
Absence of an automatic Timesheet
Sign up for a FREE Trial of Nimble HERE
2. Atlassian Jira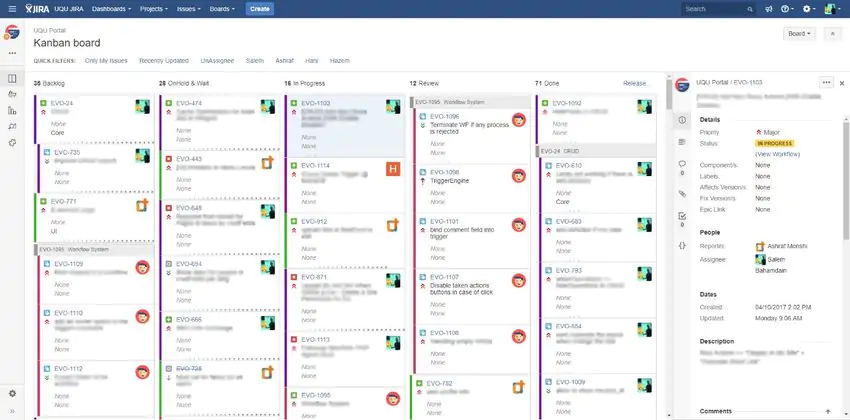 Jira is a Project Management software by Atlassian that is customizable for multiple types of projects. A user or a team is given a choice to start with a project template or create their own custom workflow. As with any Project Management tool, tasks in Jira track the work done in each step before being completed. An automation engine in Jira enables a user or a team to automate their tasks or processes. Jira also lets the user generate reports to track progress and productivity. But, despite being an established player in the market, Jira comes with only basic features, and most of the requirements are available as paid add-ons.
Pros:
Backlog Management
Business Automation
Change Management
Cons:
Complicated User Interface
Limited features included in subscription
No collaborative communication
Limited use of AI
3. Asana
Asana is a Project Management tool that helps users showcase their tasks and work in the form of a process. Asana lets a user connect their work in one place to collaborate with other teams. It helps the user organize their work using various features like To-Do lists, calendars, and Gantt charts. With a good user interface, Asana is a relatively easy tool to use that also lets the user move around tasks. Furthermore, Asana supports integrations with tools such as Slack, Dropbox, and Google Calendar among others.
Pros:
Budget Management
Client Portal
Kanban Board
Portfolio Management
Cons:
Limited formats available to export
No Time Tracking available (need external addon)
4. Zoho Projects
Zoho Projects is a cloud-based Project Management software that helps in planning projects and executing them. With Zoho Projects, the user can assign tasks, communicate with internal as well as external stakeholders, keep a track of the projects, and get reports on work progress among other things. Zoho has the quality to manage project issues while also letting the user handle basic bug tracking requests.
With multiple dynamic charts like Gantt and Resource Utilization, Zoho becomes a pleasing experience for the user, as it visually aids managing projects. The Blueprint facility in Zoho Projects lets the user visually think and design their workflow for better understanding and process automation.
Pros:
Billing/Invoicing
Separate Client Portal
Task Management
Cons:
Poor dashboard functions
Weak bug reporting
Difficult to set up
5. HeySpace
HeySpace is a two-in-one tool for project management and communication, which gives you everything you need to collaborate on projects, regardless of the size of your team. Within each workspace, you can create an unlimited number of spaces and each space has its board to plan the team's workflow, assign tasks, set due dates, and monitor the progress in real-time. Apart from the task management feature, it also gives you an integrated chat platform. You can easily communicate with all space members or talk to your colleagues in a private or group conversation. On top of that, HeySpace also facilitates communication with clients or external contributors, allowing you to easily send a chat link and quickly connect to have a conversation or collaborate on a project in one Space.
HeySpace offers a free and premium plan. The free version is up to 5 users, offers 10GB file storage (5MB per file) and unlimited chats and history. The premium plan is available for $5 per user in workspace per month (paid monthly) or $45 per user in workspace paid annually. HeySpace gives you an opportunity to check all premium features thanks to a 14-days trial.
Pros:
Ease of use
Ease of implementation
Flexibility
Built-in communication tool
Kanban Board
Cons:
Few integrations
Lack of templates
Lack of document management
6. Monday
Monday is an open platform that aims to bring teams together to collaborate, move projects forward, and ensure all stakeholders are aligned together. The unique thing about Monday is that the user is allowed to invite third-party stakeholders to collaborate on projects. While letting the user customize the access rights for the third-party user, it also ensures that the project remains safe and within the control of the organization. The user can access updates on progress, and budget approvals among other things for the entire team. With easy collaboration, it aids the user in quick decision-making.
Pros:
Activity Planning
Resource Management
Bug tracking
Sales Forecast
Cons:
Limited reporting features
Only basic Kanban view, no advanced Kanban features
No dependency view
7. Trello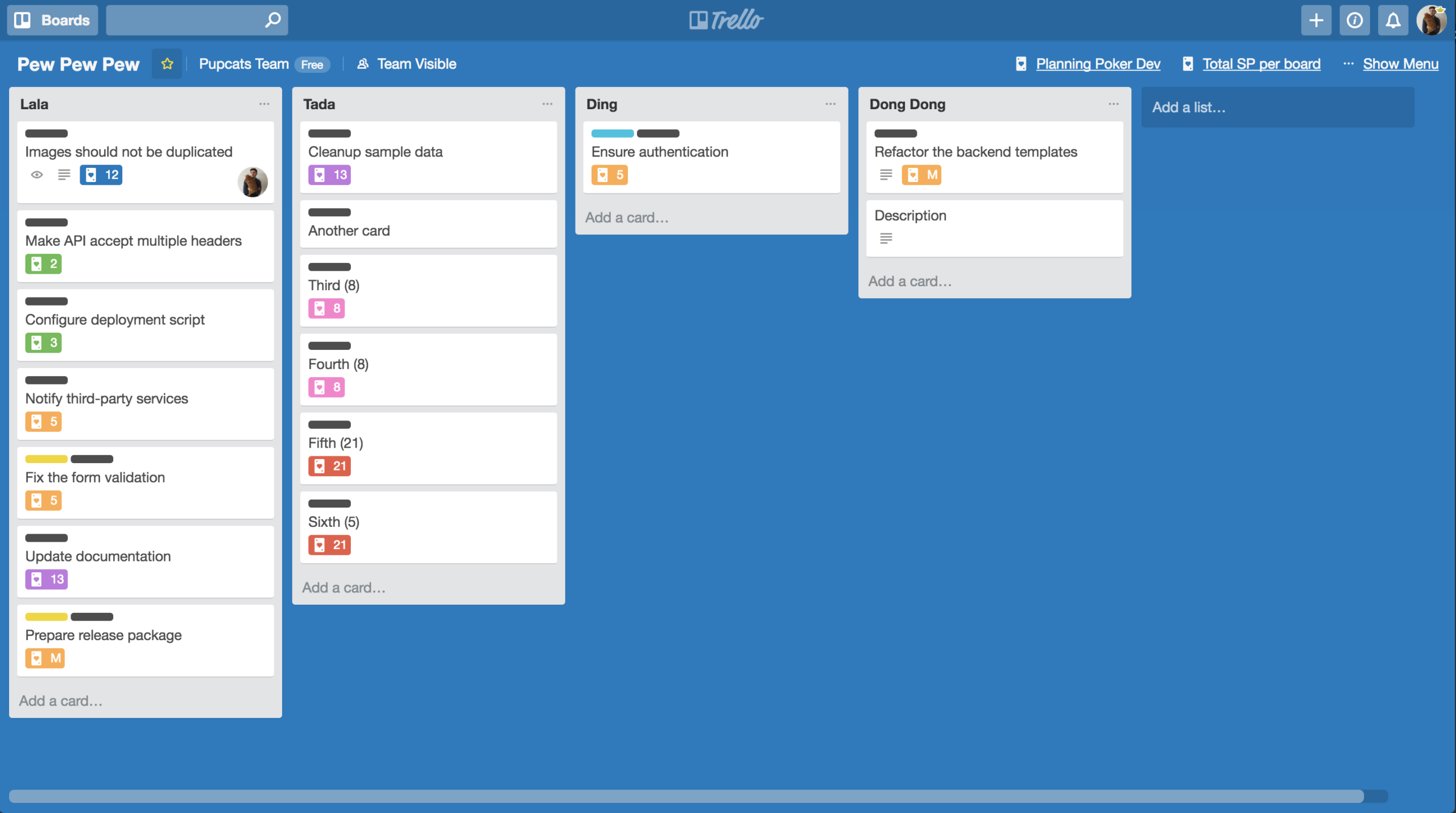 Trello is among the easier simple Project Management tools, helping users spend more time getting things done rather than learning how to use the tool. Known for their famous cards, Trello users can organize their work and manage projects from start to end: assign tasks, manage due dates, and attach files, among other features. Trello also lets the user drag and drop tasks around, as the progress changes.
Trello supports collaboration with numerous integrations with other key tools like Google Drive, Slack, Jira, and more. With Trello's own "Power-Up", the user is allowed to upgrade on a particular project task as and when required. These "Power-Up"s include some free, and some paid features, enhancing the project management experience of the user.
Pros:
Easy to use
Easy collaboration
Cons:
Congested UI
Low storage
No Gantt Chart
No integration with MS Project
8. Basecamp
Basecamp is one of the most popular web-based tools designed for team collaboration. It enables teams to work together on projects, events or other assignments. It allows businesses to manage workflow with ease and improve communication among teams of any size to discuss. It allows users to create projects, delegate tasks, start chats, add file attachments, monitor progress, check deadlines and automatically update the to-dos' status of the team members. It also provides a casual chat room called Campfire and a message board for tracking project conversations.
Pros:
Easy to use and simple interface
Ability to create client-specific projects
Integrations and cross-device
Built-in communication features
Cons:
No time-tracking feature (need external service)
 No analytical tools to offer advanced features
 Limited customization settings
 Limited chat management
9. Clarizen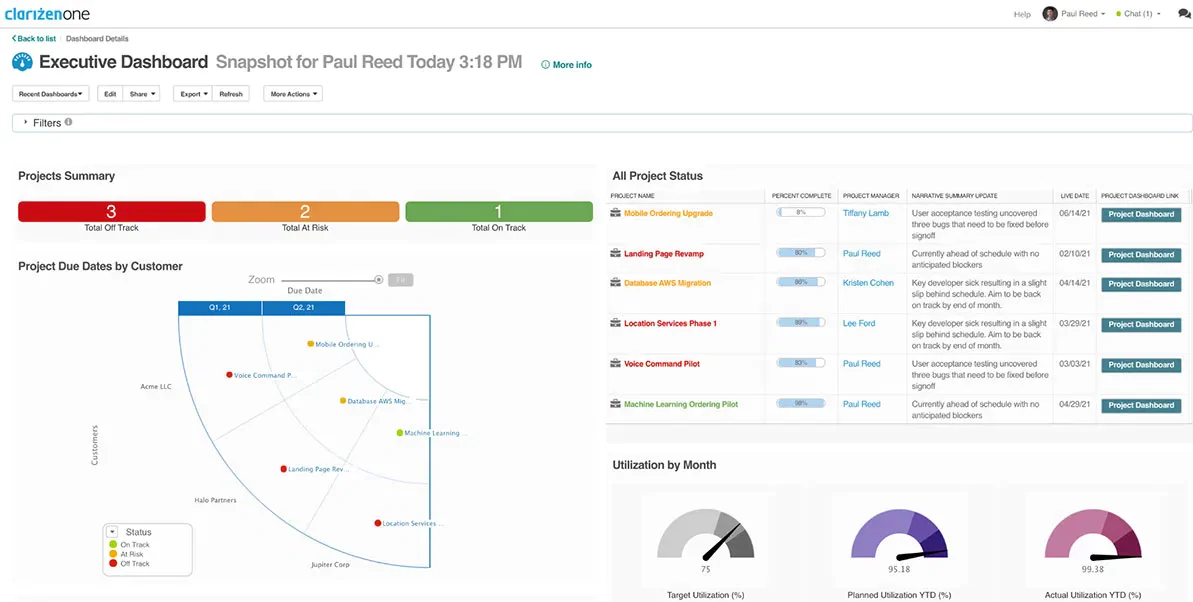 Clarizen is a cloud-based project management software with an engaging social interface. It is useful for mid to enterprise-sized businesses to boost their productivity. Since it is simple to configure and personalize, it helps users to implement it in minutes without the need for time-consuming training. Clarizen makes it easier to create a project from scratch. Projects can be prioritized and analyzed based on their budget, workloads, resource availability, and ROI. It allows enterprises to adapt to changing market conditions and empowers enterprises to transform their ideas into strategies, actions and plans.
Large enterprises can utilize Clarizen One, which offers enterprise-grade security to ensure the protection of network levels, clients and applications. Meanwhile, smaller teams can use Clarizen Go to keep up with agile teams to increase organizational alignment and accelerate results.
Pros:
Easy monitoring of time submissions
Automated processes and workflows
Budget tracking and expense management
Project dashboards
Cons:
Lacks reporting tools
 Lack of integrations with other cloud apps
10. Clarity
Clarity PPM – Project Portfolio Management is a modern portfolio management platform to successfully manage and strategize projects. It has a comprehensive range of features such as task boards, scoreboards, financial analysis tools, and more. It helps you drive business agility and increase portfolio ROI by helping you in making smarter portfolio decisions.
Clarity PPM has in-app collaboration and mobile timesheets. It can be accessed by both web browsers and mobile devices. An intuitive user interface and interactive communication options make it an efficient collaboration tool and a popular choice with users. It assures projects deliver desired results in line with market needs and business strategies.
Pros:
Improved project selection process
Real-time reporting combined with BI
Cons:
Complex functionality
Difficult for getting started using the software
11. Changepoint
Changepoint PPM (Daptiv) is a powerful configurable solution for 360-Degree resource planning for next-generation project portfolio management. It's a new and modern interface to streamline project intake and align projects to business strategy. In 2021, Planview acquired Changepoint to accelerate strategy delivery for enterprises.
Changepoint is a complete PSA solution for customer projects and integrates with any CRM and ERP, replacing manual processes with intelligent capabilities that improve enterprise profitability. It delivers customers a new, easy-to-use interface with the latest administrative control features.
Pros:
Performance management
Reporting capabilities
Workflow process Management
Cons:
Not mobile optimized
User interface is slow and clunky
12. AHA! Labs
Aha! is a road-mapping software that aids in the organization of documents and spreadsheets while also increasing team engagement. It helps in the sharing and creation of visual roadmaps, as well as directing the strategy and project prioritization. Users can display their vision and keep track of their dependencies. Workspaces for services, business, product, project, IT, and marketing can be used by any number of teams.
It comes with 30 integrations and a powerful API, as well as development, communication, and file storage features. Users can adjust displays, language, and processes to match their team's workflow.
Pros:
Create Visual Roadmaps
Analyze Product Data
Track Dependencies
Define Best Practices
Cons:
Too expensive for smaller businesses
Confusing interface and navigation
13. Planview
Planview is a portfolio management and work management software that offers a variety of enterprise solutions. It provides a complete solution for project portfolio management, strategic portfolio management, enterprise agile planning, lean portfolio management, agile program management, innovation management, and teamwork management.
The software aids organizations in transforming how strategic initiatives are delivered. Planview also allows teams to perform at their best in a variety of work environments, including project, Agile, Lean, and unstructured collaborative work.
Pros:
Program Management
Road-mapping
Investment Prioritization
Financial Planning
Cons:
Difficult learning curve
Clunky and heavy UI
14. Planisware
Planisware is a global provider of project portfolio management software solutions. Planisware V6, is an Enterprise Project Portfolio Management (EPPM) software and works for a variety of industries, including energy, medical devices, high-tech, aerospace & defense, chemicals, government, pharmaceuticals, and automotive apart from the IT industry.
Planisware Enterprise, a comprehensive PPM tool, accelerates mature organizations' data unification, allowing them to grow their project portfolio more cohesively and strategically. Organizations can use roadmaps, budgets, and investment buckets to set strategies and evaluate results. Users can use scenarios and simulations to develop, prioritize, and manage project portfolios.
Pros:
Budget Management
Change Management
Billing & Invoicing
Dashboard
Employee Database
Cons:
Not user-friendly
Need professional training to understand.
Final Thoughts:
When organizations have difficulty in delivering quality products, within the previously established deadline and budget, this is a sign of the lack of Project Management. It is always advised to use a Project Management tool, whose features lie in sync with your requirements. A proper analysis of your project and its needs, followed by opting for a suitable Project Manage tool is the way to go about it.
If you are looking for a great Agile project management tool with best capabilities, checkout Nimble, Nearly a million users use our products worldwide. These users come from a wide range of industries including Consulting, Professional Services and Enterprise IT organizations as well as several vertical industries including Automotive, Financial Services, Public Sector, Hi-tech and Telecommunications.