The COVID-19 pandemic caught the world by surprise. The mystery disease that intrigued a few people on Twitter in December 2019 has forced governments to close their borders and essentially paralyze economies. How do business owners maintain the productivity of their teams during this extraordinary time, and how do technologies help keep operations running? Agile project management ensures the constant delivery of value to your organization even amidst crisis.
The Global Economy at a Standstill
According to the latest report of the World Health Organization on June 23, 2020, roughly 8.8 million people globally have tested positive for COVID-19, of which 465,000 have lost their lives. Moreover, the global economy is projected to shrink by 3.9% in 2020. The only hope of getting back to normal is with a vaccine, which may take at least 12-18 months to develop.
In the meantime, governments are imposing strict measures to contain the viral spread. International travels are temporarily halted; domestic movement is restricted; and more importantly, the capacity of industries is significantly reduced. These are imposed to help ensure that the virus carriers do not further spread the virus.
Shifting to a more Remote, Digital, and Data-driven World
In spite of the massive stay-at-home orders, economic activities need to continue. Retailers are heavily relying on delivery services; many companies are forced to adopt work-from-home (WFH) arrangements; schools and training centers are shifting to online lectures; and businesses are striving to be more remote, digital, and data-driven.
Despite the growing popularity of pre-pandemic remote work, it is still a new concept that businesses are trying to understand. Most companies that have been adopting WFH arrangements are in the technology, business consultancy, and sales industries. However, their remote operations consist only of a segment of their processes. Not even companies with solid business continuity plans could have anticipated the impact of this global pandemic.
Productivity in the Age of the COVID-19 Pandemic
The sudden and massive workforce changes brought on by the global pandemic is fraught with challenges. According to a report by Deloitte, remote work present these obstacles:
A new set of distractions that is not conducive to work (e.g. a child wanting attention or noisy pets)
A lack of commitment from team members, as meetings and seminars become purely virtual
Technical difficulties that may prevent getting work done or logging in to a specific technology
Screen fatigue that disrupts attention
A lack of person-to-person engagement with colleagues and leaders that may result in feeling less connected, less creative or less productive
Work that overlaps with employees' private lives, leaving them stressed out

Everyone is learning how to best navigate expanded remote work arrangements. On top of the common challenges of working at home, workers are grappling with fear and anxiety over the global pandemic. The health crisis is taking a toll on the mental health of people everywhere.
How do employers help boost productivity during this difficult time?
Below are a few tips:
Encourage team members to designate a space in their homes that is conducive to work
Inform them of the benefits of virtual meetings, conferences as well as online training
Make sure every team member is familiar with the programs and apps as your daily tools
Take advantage of technologies such as an agile project management software to promote efficient collaborative working
Provide guidelines such as mandatory log-ins at certain hours
Establish responsive technical support for unexpected issues
Use breakout sessions to check in with colleagues and encourage socializing before meetings or during breaks
Advise everyone to list down their tasks a day early and to stick with their schedule to help maintain work-life balance
Adaptive Project Management in an Extraordinary Time
Organizations that undervalue project management as part of their competency strategy report an average of 50% more of their projects failing outright. Now that many businesses are forced to operate remotely, effective project management is more relevant than ever.
Project management identifies and manages risks through efficient management of resources and clear communication among the project team members and stakeholders. It helps keep everyone on the same page to ensure the project's success.
What are Agile project management principles and why should you incorporate these into your remote work processes? 
Agile, formally launched in 2001, is founded on four major principles:
Individuals and interactions over processes and tools – The focus shifts from processes to people. There is a behavioral change in which team members are not working for, but working with managers towards a common goal.
Working software over comprehensive documentation – The use of automation apps and tools are maximized in order to streamline processes.
Customer collaboration over contract negotiations – In an Agile environment, the user drives the design of a project. The development team actively collaborates with customers to ensure that the latter's unique needs are met.
Responding to change over following a plan – Instead of working within an agreed scope to create a time and resources plan, the Agile method establishes a plan that ultimately drives the scope. The team adjusts to changes, realizing other opportunities or benefits throughout the project's life cycle.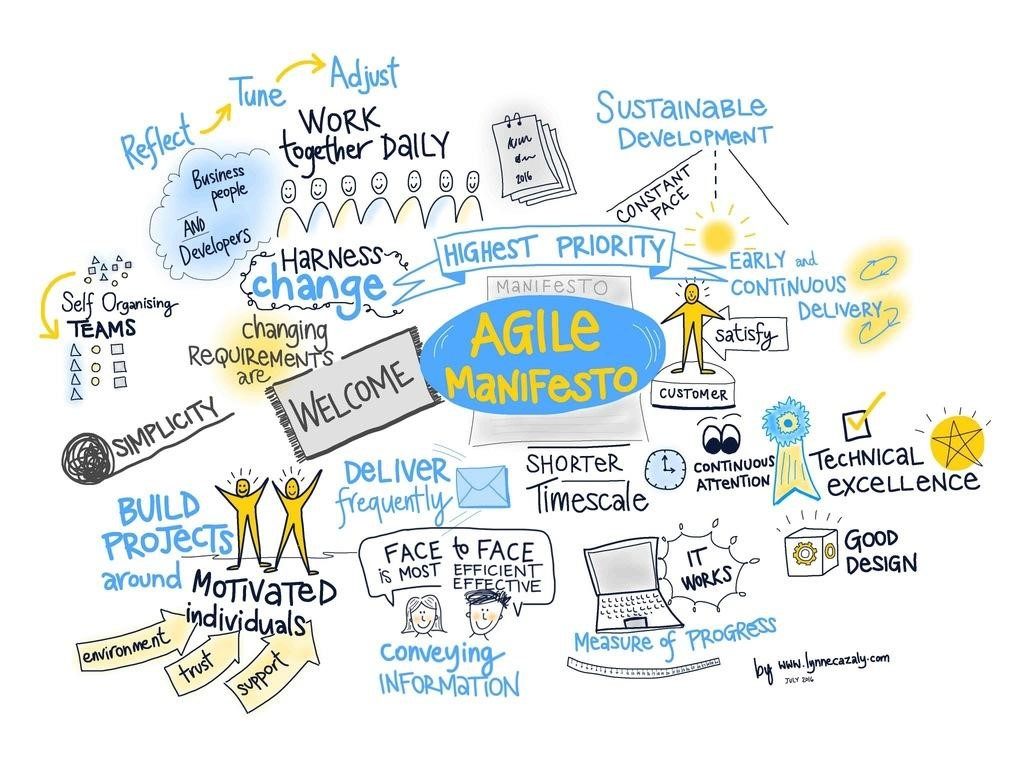 Source: LynneCazaly
"Agile Project Management–like its lean development counterparts–streamlines the development process, concentrating on value-adding activities and eliminating overhead and compliance activities," shared Jim Highsmith in his bestselling book, "Agile Project Management: Creating Innovative Products".
The focus of Agile project management is the delivery of maximum value within a specific time and budget. The Agile approach dissects a requirement into smaller and more manageable pieces which are then prioritized by team members based on importance. This method promotes better monitoring of tasks when the entire team is working offsite.
Agile follows iterative or incremental steps. These are meticulously planned to adapt to changes and executed throughout the life cycle of a project. Instead of taking aim at a defined target, the Agile approach allows your team to respond effectively to changing requirements. "A traditional project manager focuses on following the plan with minimal changes, whereas an agile leader focuses on adapting successfully to inevitable changes," wrote Highsmith.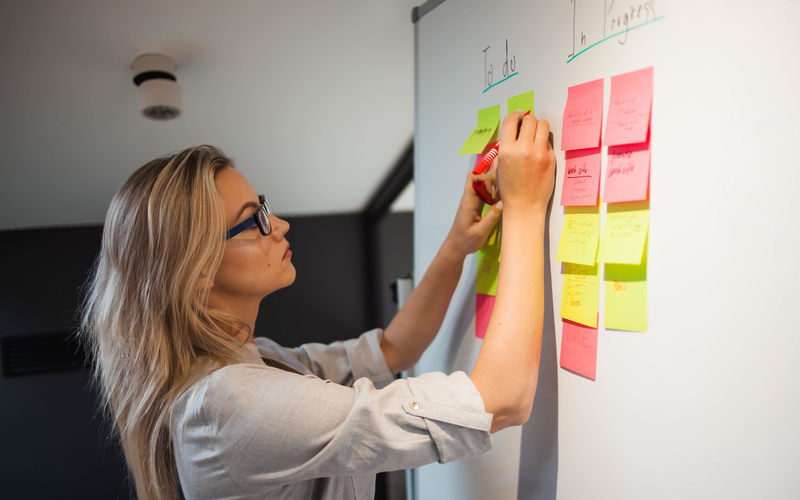 The WFH arrangement poses a challenge to project management because of the lack of person-to-person interactions. Team members cannot engage or communicate directly with one another, affecting their ability to connect and work in a group. Agile addresses this obstacle by promoting collaborative working. "The result of any collaboration can be categorized as a tangible deliverable, a decision, or shared knowledge," according to Highsmith.
The global pandemic has brought many countries to their knees. Healthcare systems are overwhelmed; trade and business capacity is significantly reduced; and transport systems are suspended. Governments are imposing measures to somehow bring a sense of normalcy while controlling the mobility of virus carriers, the humans. Schools are operating via distance education, and many companies are shifting to WFH arrangements.
In exploring remote work, allow your team to adjust to this sudden workforce shift. Acknowledge the challenges of WFH arrangements and strive to address these with your people. Take advantage of technologies that can ensure a seamless integration of planning and execution as well as collaborative work. Most importantly, craft new work guidelines that prioritize the well-being of your people. After all, they are your most important asset.