What are the benefits of Application Lifecycle Management (ALM)? Why should you care about ALM?
It Depends…
It turns out not every benefit of ALM is important to everyone. In other words, different types of organizations benefit differently from ALM. In this post, I would like to share some of the most important business benefits that our customers have realized.
Our Customers range from some of the largest IT Services/ Consulting companies to Corporate IT to ISVs and Engineering organizations inside high-tech manufacturing, System Integration and embedded-systems companies. They have a wide variety of product design and development methods as well as a varying degree of need for standardized processes, collaboration with customers and partners, and the ability to support distributed teams.
ALM – Taken for Granted
The standard benefits offered by a good ALM Software solution include Visibility, Traceability, Information, Agility, Quality. The ability to support a myriad set of development tools across the software development lifecycle to enable different functions – product owners/ business and functional analysts, developers, testers, architects, DBAs, DevOps – to use the tools of their choice which work best for them in their own functions is critical for any technology organization.
This much is understood: A great ALM solution integrates these myriad tools and provides Visibility to each function about what the other functions are doing and how it may affect them. It enables Traceability – so they understand the overall context of the specific artifacts – requirements, user stories, code fines, test cases, defects, change requests, etc. – they are working on – and the impact of any changes made throughout the lifecycle. It automates and centralizes all of the Development, Quality, Project and resource Management metrics in a unified Dashboard that might be critical to a product team or to the overall organization's demonstration of quality and agility. Most of all, it lets each person in the team work with tools they love – so they collaborate and produce to their best ability!
What is not so well understood is that there are other significant business benefits for organizations that are focused on managing their investments in applications well, keeping their customers satisfied on a sustained basis and maximize employee satisfaction and productivity.
Managing your Application Portfolio, Maximizing Application RoI
A big favorite of our corporate IT customers, this is one of the least understood and least realized benefits of companies who spend so much on application development. While a lot of investment dollars are spent on developing applications and maintaining them, most organizations admit to having more applications and 'sand-box' projects than they care to, or indeed can, account for. These include applications and projects half developed or implemented before running out of steam – but still being used by a set of users, "independent initiatives" (unapproved projects!), and just forgotten/ unaccounted for apps that remain in the system.
A lot of organizations don't realize what a drain these cause to the IT budgets and productivity. Having an ALM solution doesn't fully eliminate this issue, but it helps in bringing all work being done by IT in a single management environment where it becomes easier for IT to catalog their applications into relevant portfolios, review them periodically for fund/kill decisions, and in general manage their Application Portfolios much more effectively.
Depending on the kind of ALM solution they may be using, they can also get a full picture of what an application is costing them to support as also the kind of returns they are getting from the application (tho' getting business to capture the 'returns' from an application usually seems to be a much harder thing to do!)
An ALM solution can serve as an important source of data for a variety of organizational metrics.
Boosting Employee Satisfaction, Productivity, and Utilization
A fundamental benefit of an ALM solution is that it helps different roles in the SDLC use the tools of their choice. In today's technology-enabled world, that is important. We are all wedded to our favorite devices, apps and gadgets and are the most productive when we love the technology that we are using to do what we do. Enabling employees and teams to use the tools they want is crucial!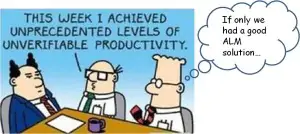 A good ALM solution helps employees do what they need to – and want to – do, while helping managers keep them occupied with work that is business critical. ALM interfaces with project and resource management tools allow managers and employees track contribution to various types of projects that employees contribute to, helping maximize what employees want to do while balancing that with supporting organizational goals as well.
This is particularly beneficial in IT services/ consulting organizations where companies must keep employees motivated, learning and productive to maximize delivery of services and value to customers.
Getting and Keeping Highly Satisfied Customers
Whether you are an IT organization trying to stay aligned to Business or an ISV that is striving to get feedback from customers or an IT Services company working on maximizing customer satisfaction, you have the same common goal – High Customer Satisfaction.
An ALM solution provides the high-visibility, high-transparency, collaborative environment that helps you showcase what you do to your customers, provide them early and frequent visibility of the work you do, collaborate to help them define their real requirements – and allow them to change them because they understand what they need better after they see what you deliver initially or because of changes in business requirements.
Having been in the business of software, we all know how hard it can be to define requirements, prioritizing them and managing the inevitable changes they must go through! A good collaborative ALM system strives to solve that crucial problem – by providing both the customer and the delivery teams to collaborate continuously from the start to well beyond the version 1 of the application to ensure that high quality, highly effective software is produced to make business and customers more successful in what they do.
In summary…
A good ALM solution helps develop collaborative transparent, mature relationships between Business and IT, between Product Management and Engineering, between Customers and Vendors that result in happy, satisfied customers, happy and productive employees and a high RoI/ profitable technology organization.
Mahesh Singh
Co-founder/ SVP – Product
PS: What other benefits do you see from your ALM solution? Do let us know.  If you liked this post, please share it with others!
Image courtesy Dilbert.com by Scott Adams