I was in Bangalore for a few days, in part to attend the Agile India 2015 conference.  The Sunday morning after the conference got done, I decided to go for a walk.  Instead of the picturesque Cubbon Park close by, I decided to go exploring the city.  In keeping with the Lean/ Kanban principles discussed at the conference, I decided to maximize flow – and turn in whichever direction the pedestrian crossings were open.  That immediately put me on Kasturba Road.  I thought fleetingly, "Of course, Kasturba Gandhi (Road) had to be next to her husband Mahatma Gandhi (MG) Road!"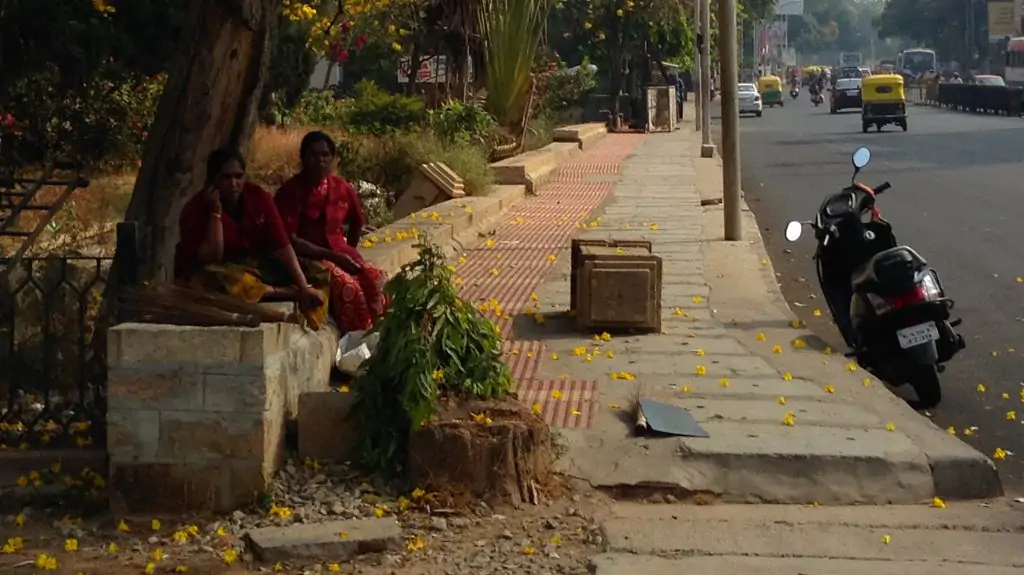 I slowed down a bit, looking around more.   It was a typical Bangalore morning, cool and crisp.
I spotted a woman sweeping the sidewalk ahead of me.  Nothing unusual – one is used to seeing streets being manually swept in India all the time.  A little later, I spotted another woman sweeping the sidewalk on the opposite direction.  Further down, about half a kilometer, I could see another woman sweeping.  I thought – "Hey, where are the men?!"  Smiled to myself, mentally thanking the women for the clean sidewalks I was getting to walk on.
Women-Power: On the Rise!
The sight of the women made me reflect on the events of the past few days.  At Agile India 2015, there were several moments to recognize women's achievements in software and IT.  As in the past instances of the conference, several foreign guests remarked about the comparatively high number of women attending the conference.  This had been true last year as well!  Clearly, India's IT industry is doing something right not only to employ but also put women in a position where they are best able to represent their organizations at this conference!
Also, some of the best – energetic/ passionate and the most interesting sessions were conducted by women!  Diana Larsen started off the conference with a gusto, getting everyone on their feet dancing with Aja Nachle and other high-energy Bollywood numbers before proceeding to give a fascinating keynote on the Agile Fluency Model. There was my good friend Rituparna Ghosh – along with Zaheerabbas Contractor – who described the many challenges of running an Agile CoE (Center of Excellence) in a large elephantine IT Services organization like Wipro.  The energy with which she made the presentation was surely an indication of the energy required and I am sure invested in taking on a project like that.  There was Sophie Freiermuth, who spoke of the integration of UX in the Agile software development cycle.  Last year, there were some great sessions as well by women speakers, including the one on Requirements Gathering using Lego sets by Ellen Grove; as also the one by Lynne Cazaly, the girls with chisel-tip markers!
I missed a number of such sessions. What I marveled about the sessions that I did attend were – they were all different from the usual conference sessions, they were full of energy and creativity not just in the content but also in the presentation (so important in conference presentations!) and were particularly good at engaging the audience.
I also had the good fortune of meeting several women attendees from organizations such as NIIT (my old alma mater!), Accenture, Cisco and several others – and each time I was struck with the slightly different perspective they had on all such conversations!
More power to them, I thought – as I walked along the Bangalore streets.  By now, I had a real destination – called Majestic.  This used to the hub of Bangalore at one time with both the central bus terminus and the train station located here.  I'd been wanting to visit it just to check it out for a long time and when I saw a sign with that name, I decided to follow along.
Paired Sweeping: Xtreme Cleaning!
I finally noticed that each time I came across a woman sweeping the street, there were actually two women.  I also saw that while one of them swept and collected the garbage in little piles spaced out along the sidewalk, the other woman came by with a couple of garbage cans and deposited the piles into the cans.  I decided it was time to talk to them and understand their system a bit better.  Language might be an issue – but I plunged in.
The first lady regarded me suspiciously wondering why I wanted to talk – and why did I need to take pictures.  I explained in slow Hindi – that I would write about them.  I asked her name – "Rajamma", she said.  She told me she worked with that other woman down the road.  They sweep only twice a week – from 8 AM to Noon.  They have a specific section assigned to them. And yes, she swept – and the other one picked up.  "Paired Sweeping! Or more like Dev + QA pair!" I thought, pleased all the more with the recent Agile India experience still on my mind!  Spoke to a couple of other women after that – Parvathi – and Pushkala – who was so shy I thought it better not want to take a picture…  I wondered who had come up with the concept in the Bangalore Municipal Corporation, idly thinking – 'might have been an Xtreme Programmer!' 😉
Clearly, cross-functional teams worked in more than just the software domain!
The (not so) Lean Epilogue!
I did get to Majestic – where I happily enjoyed some street-food breakfast (poori-aloo) and some excellent Irani tea; and then headed back, marveling at – and resisting the temptation of – other colorful fruits and drinks.  I got back to my guesthouse after a brief encounter with another woman entrepreneur where I picked up some cookies and fruits – and thought about the remarkable morning.
I got back to my guesthouse and switched on the TV to find the Hindi hit movie "Chak De India" playing – an inspiring story of the Indian women's field hockey team's struggle from nearly being disbanded to winning an international tournament in Australia, based on real-life events.  Truly, a morning well spent in Bangalore – celebrating women – and their hard work, their battles and their achievement!
Of course, later I did turn on the TV again to watch the Cricket World Cup Final between Australia and New Zealand… and wishing India were playing in it instead, heroically, like the Indian Women hockey team…
We had a great time at Agile India 2015.  If you missed meeting us, you can learn more about us at our SwiftKanban and Digite websites.  And of course, we hope to see you there next year again.
Cheers!
Mahesh Singh
Co-founder/ Sr. VP – Product
Digite, Inc.