Energetic, responsive, trying harder – those were some of the best compliments we received from our customers.  As one of them, who switched from a competing product to us, said, "It looks like you guys are always trying harder and better than the rest of them." Absolutely!
And thank you very much for noticing!
The past 12 months have been truly exciting.  2013 was the year in which organizations ranging from boutique consulting companies to global automotive giants, high-security government agencies to Fortune 500 global brands trusted us and our products with their technology implementation and project management needs. Our customers are our best source of inspiration and innovation – and we take listening to them and responding very seriously!
In 2013, we launched SwiftALM – a completely revamped, next-generation Lean/ Agile ALM successor to our Digité Enterprise product.  It is being embraced enthusiastically by existing customers and new for their application/ software development, Quality Management, large Program Management and Global Delivery management functions.  Combined with SwiftGovernance, our highly evolved process management platform as well as SwiftAnalytics (a combination of SwiftReports and SwiftRules), SwiftALM received accolades from organizations focused collaborative software development and improving software development/ project management processes.
SwiftKanban saw global acceptance as the leading Enterprise/ Portfolio Kanban tool and the best Scrum/ Scrumban product. At the same time, it found favor with teams and individuals – both in IT and outside – looking for a visual management tool or a Personal Kanban tool. We also launched the beta version of SwiftSim, an advanced simulation and forecasting tool for helping teams predict service levels.
Finally, SwiftSync, our enterprise integration bus technology, became more firmly entrenched for the rich ecosystem of integration adapters it provides.  With SwiftSync, we were able to deliver the promise of integrated ALM more than ever before. Like we heard in the Lean Kanban North America conference in Chicago, we were seen as the 'most enterprise-ready'  toolset!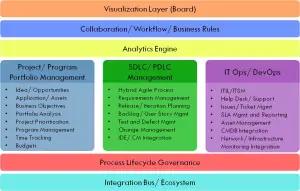 2014 promises to be exciting as we look to some significant strides in customer adoption of some the best methods of managing technology projects, collaborating with a mix of distributed internal and customer teams, using simulation and Big Data techniques for deep insight into project and team performance, all helping them achieve some of the most challenging goals of delivering high-quality applications and products to customers with a highly-productive knowledge workforce.
Our resolution for 2014 is to keep up and even accelerate the pace of innovation.  As our customers move to serve their global customers, we are ready to keep in step with them!
From all of the Digité/ Swift family – Happy 2014!