Sometime back, we published a blog post Due Dates in Kanban Systems – which drew some flak from some folks who objected to the line of reasoning in that post. However, one of the commenters made a good point – that it made sense to have Due Dates in a Kanban system if in fact the process being visualized on the Kanban board already needed Due Dates.
The Kanban Method's fundamental premise is – start with your current process have and improve gradually, in an evolutionary manner. So, while one might argue that as part of improvements in your process, you might start using Due Dates to drive a certain behavior in teams, the more likely scenario is that you already have a process that uses Due Dates.
Well, if you do, then a Calendar can be a GREAT way to visualize when you have work or deliverables becoming due – so that you can use it to communicate to your team when they need to finish work by or to your stakeholders when they could expect completion of key milestones in an overall business or other program.
A great place where this is true is Marketing – which is run by a schedule of published (internally and/ or externally) dates. Marketing is fundamentally run by dates. While Agile marketing and continuous marketing campaigns ensure that "Due Dates" are no longer as 'critical' – you still need to publish a schedule of key events and deliverables that others, including prospects and website visitors can plan for.
Marketing's key challenge is working on multiple types of work – webinars, blogs (such as this one), case studies, mailers, sales collateral, social media activity, etc. – and ensuring that each of them get done by a specific date – with the right quality; and to communicate a reasonable schedule of these activities to internal and external stakeholders.
We introduced the Calendar View in SwiftKanban – just before Thanksgiving last November – with just such a challenge in mind. We did a couple of cool things – if you set a Due Date on your cards, they would show up on the calendar on that date. Alternately, you can set – or change – the Due Date on a card – by dragging it on to a specific date! In the future, we will also provide other dates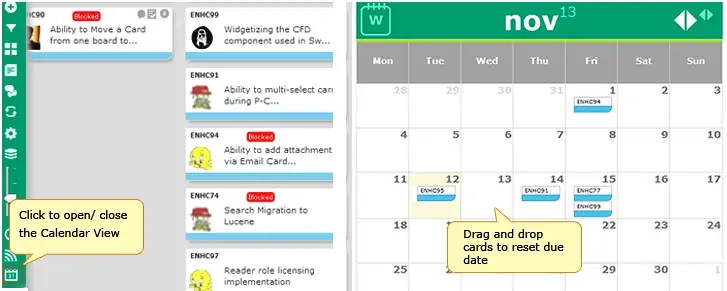 So, you can imagine the thrill I get in being able to give an exact picture to my boss of our webinar schedule or tell Sales when they could expect a piece of sales collateral!
A number of functions – including Recruitment, HR, Finance and others work on a similar basis. Key functions such as income tax filing or property tax payments all work on a specific schedule throughout the year. Additionally, our customers using SwiftKanban for Scrum or Scrumban projects are now able to see sprint or release date based schedule of work getting done!
The Calendar feature is just one of the several things we have done and are doing to help us live up to our tagline – "How work really gets done" – visually!
Signup for a FREE trial of SwiftKanban Here:
https://www.digite.com/swiftkanban/swiftkanban-free-trial/